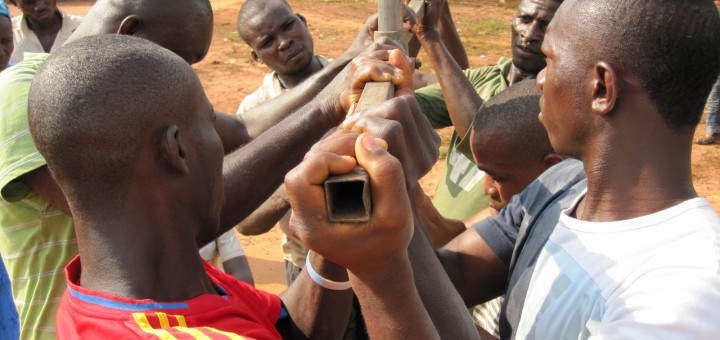 The most important part of our work is delivering clean water and sanitation.   For water, we often have to drill boreholes, though occasionally we may simply need to repair a broken pump over a pre-existing borehole or cover in a spring source to keep it clean.  (See volunteer Nathan Nelson's blog on on changing a broken pump for more information.) We also routinely organise rainwater harvesting from clean roofs of public buildings such as schools, where it can be used for emergency supplies or to teach the children hand-washing.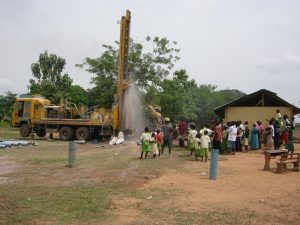 Because the ground is laterite it is difficult to site boreholes.  Until recently an average of only one in three was successful.   However our sponsors,  consulting engineers Ove Arup, made their expert knowledge freely available to us while volunteer hydrogeologist, Simon Sholl, has made a detailed analysis of the problem.  With their help we have now managed to improve our success rate to around five in six.
With the villagers' agreement, we then train them to construct one latrine per household, and we finance the purchase of the non locally-available materials they need to do this.  This is followed by  training in health and hygiene – after all, it's no good giving people clean water if you don't also explain to them the best way to use it.