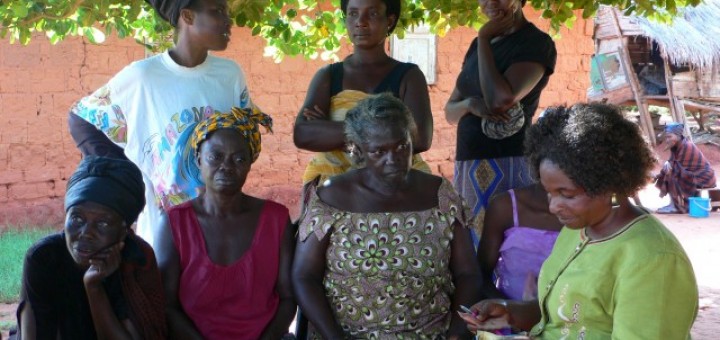 We assist communities with a range of income generating activities.
Microcredit
For the last six years, we've also been running a microcredit scheme, providing small loans and business training, to poor women. The scheme, which follows the Grameen Bank methodology, is administered by volunteer Ishy MacKinnon. It began in our home village of Gyetiase, where the women chose to call it Yendaakye, meaning Our Future. It has since been introduced to two other main centres at Kwahu-Tafo and Dampong and extends outwards to villages surrounding these three centres.
Training is carried out at group meetings and aims to ensure women understand the business they want to start including knowing what start-up costs there are, how much they will sell and to whom and what profit they will make through this business. When a participant can produce a simple business plan, she is given the first of three loans ranging between £40 and £100 each. Repayments are made weekly at group meetings.
Annual interest is charged at 15 per cent, while interest rates in Ghana averaged 16.56 per cent between 2002 and 2014. Repayments are sometimes made late, but so far no woman has failed to repay except in cases of serious sickness or death.  When three loans have been made and repaid, the money is used to offer microcredit to another village.
Most women use their loans for trading. They take the bus to Kumasi, which is some 50km away, and buy clothes, food, oil, kitchen equipment, cloth etc to resell in the villages. Some sell fast food for farmers coming home from the fields, and those who own small patches of land use it to improve their crops. Ashanti Development employs a microcredit worker to cover each three or four villages, and a part-time supervisor to oversee each two or three workers and to support them whenever, for example, they are beleaguered with demands for further money or loan extensions.
Recently, we have given a microcredit loan to the village of Adutwam, who used it to buy food processing equipment.  They are repaying the loan on the same terms.  We also exceptionally bought a fridge and gave it on microcredit terms to a woman making fish soup to market round the villages.  Her business is growing in leaps and bounds.
Microcredit is wildly popular in our area, and we often receive delegations from outlying communities or letters asking for it to be extended to particular villages. Here is part of a letter of appreciation we received from Nana Gyamfua Aduako II, Queen Mother of Kwahu-Tafo.
"I have heard … about the very remarkable generosity of your 'Yen Daakye' programme here in our town, under which Ashanti Development started a Microcredit Scheme in October 2011 to assist Kwahu Tafo women to make a modest start in business or build upon their current achievements.
"… during Isebail McKinnon's recent visit the number of women registered under the scheme and now collaborating in self-supporting groups has risen to 80. This is an astonishing benefit you and your colleagues have brought to us, and on behalf of the women in the town I, Nana Gyamfua Aduako II, Queen Mother of Kwahu Tafo, want to express my profound appreciation of your choice of Kwahu Tafo, and your persistent and successful efforts to develop skills and opportunities for our women. I understand that the group system offers the participants not only mutual support but also training in a way that is very encouraging to them as citizens seeking to stand on their own two feet.
"Dear Ms David, Kwahu Tafo will always be grateful to you, and the 'Yen Daakye' founders Isebail McKinnon and Jennifer Kavanagh, and all your good people. Thank you all so much. I would like to take this opportunity to wish your organisation the greatest possible success wherever it operates, to congratulate you on so faithfully rewarding your donors' interests, and for sharing so much with our small town."
Agriculture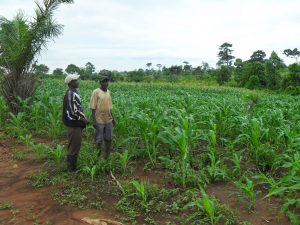 The people we work with in Ashanti are mainly subsistence farmers, growing crops like cassava, yam, cocoyam, plantain, groundnuts, cabbage, maize, tomatoes, peppers, carrots and chilli. Cocoa used to flourish, but doesn't any longer.
Ashanti Development currently works with 38 farmers, growing different kinds of crops. With the help of the local government agricultural research station, we train the farmers on how to grow them successfully.
At every growing stage, we buy the farmers items they need, such as seed, agro-chemicals, fertilizers and equipment. We make regular visits to monitor progress and identify problems such as crop disease.
After the crops have been harvested and sold, we cost all the items which the farmers have been given and they repay Ashanti Development the cost, including interest at an annual rate of 15 per cent, as for microcredit loans.
Each farmer stays on the programme for four to five years, after which they are felt to have acquired enough experience and resources to operate independently.
Food Processing
Sometimes we set up a food processing facility, for example a shed containing corn-starch machinery, a palm oil press or machinery to process cassava into a long-life version.  This can be kept until there is a shortage or sold in local markets when the price is good.

We recently started providing whole villages with this kind of equipment, also on microcredit terms.
Beekeeping
This initiative is supported by Bees Abroad and the Fleet Beekeepers Association.
The sale of honey provides subsistence farmers with money for education, health and family support.
We train people from Ashanti Development supported villages in beekeeping, how to make hives and bee suits; harvest and market their honey. The first three bee keepers were trained in May 2014 and are currently setting up their hives. Once a beekeeper has been trained and obtained some experience they will help to train others.
This is a long term project. More beekeepers will be trained in Gyetiase in February 2015. Each bee keeper will build more hives over time as profits from honey sales permit.  There is a video about training bee-keepers at https://www.youtube.com/watch?v=Gc59IMJXkT0&feature=youtu.be.
You can sponsor a bee keeper – this includes training costs, materials for the first two hives, materials for a bee suit. Please contact us for more information.