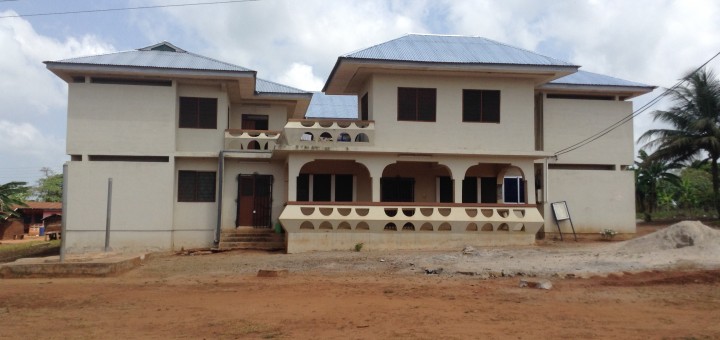 Eye health is a major problem in Ashanti, where young children who go blind have a life expectancy of under a year.  We've built a two-storey clinic to tackle this problem.  It was designed for us by Architects for Humanity, who based the plans on traditional Ashanti building designs with added features to combat heat and promote air circulation.   The unskilled building work was carried out free of charge by local villagers, often with over two hundred villagers working on site at any one time.
We are extremely grateful to Architects for Humanity and also to our patron, Dame Mary Perkins of Specsavers, who personally provided much of the finance.
The clinic, which includes a pharmacy, is still only partially registered. It is used by our newest part-time employee, Agnes, an optometrist who screens eyes and distributes spectacles. Her eye clinic is very popular and attracts patients from far and wide, although they all have to pay a tiny sum of money for the privilege.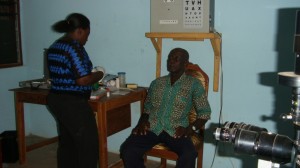 The clinic is also used by groups from SpecSavers and other opthalmologists who visit every year and have now distributed over 6,500 pairs of secondhand prescription spectacles.  SpecSavers Ab Roy has generously donated a great deal of specialist eye testing equipment to the clinic – see photos below – and we plan in future to train villagers to make prescription spectacles.
Finally, the clinic is used by Dr Peter Osei-Bonsu and other medical staff from Komfo Anokye Hospital in Kumasi for cataract operations.  We envisage the clinic will be expanded over time, and will work under the umbrella of Vision 20/20 to cater for a large catchment area, since there is no other eyehealth provision in the area.
This slideshow requires JavaScript.