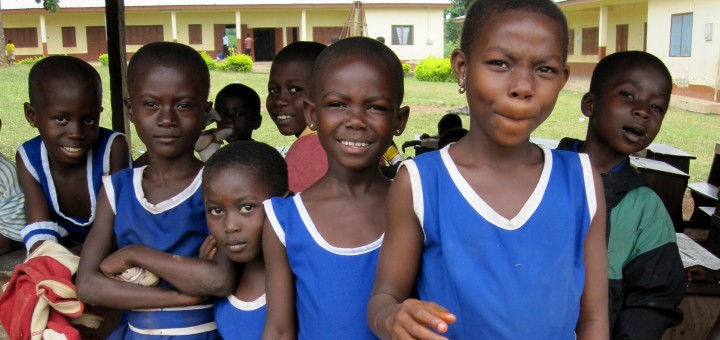 We believe Ashanti's main educational problems are due to the poor standard of English – children need to speak English before they can learn to read and write – and outdated teaching methods.  So we send English-speaking volunteers to teach in local schools, and long-term volunteer teacher-trainers to improve teaching practice.  We monitor progress from year to year.
Teacher Training
In 2012, we asked Dave Banks, a retired teacher trainer, to develop a method to improve the poor quality of teaching in Ashanti schools. We asked for recommendations to tackle the root cause, which should be replicable across many schools at low cost. Working closely with the District, Dave spent time observing lessons and then produced and piloted a programme.
The programme is simple, and based on improvement of two aspects: pace and involvement. Dave now teaches it to eight educational supervisors and the headteachers in each District, who cascade it to their own staff. In this way, the Ghanaians do not see the programme as being imposed by outsiders, but take ownership and are extremely enthusiastic about it. Inevitably distortions occur, but Dave oversees the project and tries to correct them, and we see this as a price worth paying.
We have now engaged with over fifty widely-scattered schools, many of whom show dramatically improved results. In the short term, we expect the District to rise from third to top quartile of the Ghanaian Districts exam league table by the end of 2015. We also hope to promote the programme more widely, in the first instance to a further 700 teachers and around 5-6,000 children,
You can see an article Dave wrote for the Times Educational Supplement reprinted in Ashanti News 21, called A Day In The Life Of Dave Banks.  He spends up to six months in Ashanti each year, paying his own airfare and expenses. He is totally committed to the work, and intends to continue indefinitely.
Tree Planting
Most of the hardwood trees in the area were harvested for timber long ago, causing land slippage.  In 2010, Ashanti Development set up a tree planting scheme, providing that children in their last three years of school be given a tree to plant and look after, with prizes or certificates for those who do best.
The scheme has recently been adopted by the our local authority, with the aim of spreading it through all schools in the area.  Meanwhile, we have planted around 4,000 trees so far, with a success rate of 98 per cent.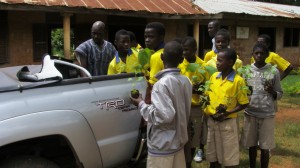 School Twinning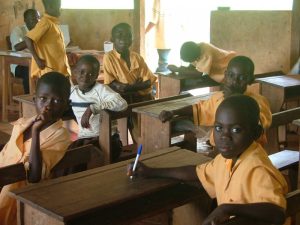 We also arrange twinning between Ashanti schools and schools in the UK.  For example, Cranford Park Primary School at Yateley in Hampshire recently started twinning with Nkwabrim Primary School in Ashanti.  They launched the twinning by recording themselves singing a song called 'Precious Water,' specially composed for Ashanti Development by musician Bob Browning (Click here to watch a rehearsal).  In return, Nkwabrim children sang a Christmas carol for Cranford. (Click here to watch the video)
Sekyere West local authority has kindly offered us the services of Education Officer Esther Donkor to maintain the Ashanti end of the school link.   In Europe, this is maintained by Ashanti volunteers.  Below is the list of twinned schools.
| | | |
| --- | --- | --- |
| | Ashanti Schools | UK Schools |
| 1. | Nkwabirem District Assembly (d/a) Primary School | Cranford Park Primary School, Yateley, Hampshire |
| 2. | Brofoyedu Presbytarian Primary School | Elm Park Primary School, Bristol |
| 3. | Bimma Methodist Primary School | Gilded Hollins Primary School, Lowton, Wigan |
| 4. | Abonkosu District Assembly Primary School | Christopher Reeves Lower School |
| 5. | Kruwi d/a Primary School | Shortstown Lower School |
| 6. | Atwea R/C Primary School | Cotton End Lower School |
| 7. | St Peter's R/C Primary School | Cauldwell Lower School |
| 8. | St Peter's r/c Junior High School | Mark Rutherford Upper School |
| 9. | Anansu Presbytarian Primary School | Renhold Lower School |
| 10. | Nsuta Presbytarian Kindergarten | Peter Pan Nursery |
| 11. | Bonkron d/a Primary School | St Joseph's R/C Lower School |
| 12. | Gyetiase d/a Primary School | Goldington Green Lower School |
| 13. | Akyease Dida Primary School | Shackleton Lower School |
| | | Italian School |
| 14. | Adutwam d/a Primary School | S. Antonio School, Padua, Italy. |
Most Ashanti schools are run-down and sometimes even dangerous, so we  also construct new buildings whenever we can find the money.  We send over teaching materials and books – and are particularly grateful to Queenswood School in North London for helping us equip a small library.
Above is a picture of the computer room we've recently set up in our headquarters village of Gyetiase.  We are also trying trying to find laptops for every school.