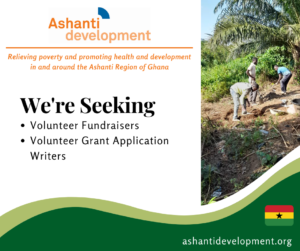 Help us to continue making a difference to the health, development and livelihoods of communities across the Ashanti region in Ghana by becoming a volunteer fundraiser. See below for more details and please feel free to get in touch.
Ashanti Development was set up in 2005, when London-based Ghanaians asked their friends and neighbours for help to improve the lives of people in their home villages. These were cocoa farmers who could no longer grow cocoa because of climate change. Many were close to starvation.
We are a 100 per cent volunteers' charity and pay no salaries and very few expenses in the UK. We employ staff in Ashanti to carry out our projects.
We are looking for a volunteer fundraiser with the ability to raise money in ways including by applying for grants from donor organisations. They must be committed to our aims and objects (see www.ashantidevelopment.org), have the ability to produce good written English and be free to offer us a few hours work a week. They must also be happy to work remotely. The role would suit a new starter looking for some first-hand experience and who we would train, or a retired person, or anyone else with spare time on their hands who wished to make a contribution to improving the lives of the very poor.
The volunteer will get no pay – just the knowledge that they're saving lives and the eternal gratitude of thousands of Ashanti families.
We look forward to hearing from you!